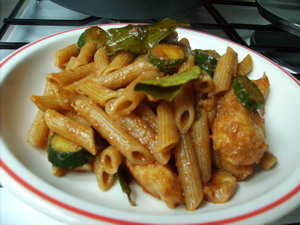 I love currys and pasta. This spicy and slightly creamy pasta, with a hint of lemon flavour coming from lemongrass and kaffir lime leaves, was a feast for my friends and me after a funny and exhausting badminton game. Hopefully you will enjoy this pasta dish as such as we did.
I'm sending this pasta dish to Katie from
Thyme to Cooking
, who is this weeks host of
Presto Pasta Night
.
The weekly event is founded by Ruth of
Once Upon a Feast
.
250 g whole-wheat Penne
1 white fish filet (such as Basa)
1 tin of coconut cream
2 tbsp. penang curry paste (heaped)
1 small cucumber
1 stalk lemon grass
5 kaffir lime leaves
2 tbsp. fish sauce
1 tsp. brown suger
4 tbsp. canola oil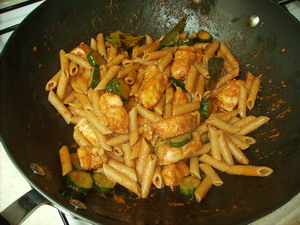 Heat up salty water in a pot and cook penne al dente, according to packing instructions.
Cut fish into bite-sizes, cucumber into slices and don't peel cucumber.
Heat up oil in a wok and fry the penang curry paste. Add kaffir lime leaves, crush the end of the lemongrass stalk and add, too. Fry for another minute.
Now you can add the coconut cream, fish sauce and brown suger, cover and let simmer for 5-10 min. Put fish and cucumber into the sauce, cover again and let cook until fish is done.
As soon as the penne are al dente, drain (save a little of the pasta water) and give the wet pasta into the wok, stir and if you find the dish is to dry, just add a little of the pasta water.
Serve hot and enjoy!